In today's competitive corporate landscape, finding and hiring Top Talent has become increasingly challenging. Companies face the daunting task of sifting through a plethora of Job Openings and countless Applicants to identify the perfect fit for their organization. However, the advent of UpHiring by MiNdLiNkS is set to revolutionize the way businesses employ someone. Through an innovative approach that combines Advanced Technology with a professional touch, UpHiring aims to streamline the Recruitment Process and connect employers with Top-Tier Talent. In this Page of information, we will explore the various aspects of UpHiring and how it can transform your recruiting strategy.
In an era where finding and hiring Top Talent is a paramount concern for organizations, UpHiring by MiNdLiNkS offers a game-changing solution. By utilizing Advanced Technology and a Professional Approach, the platform streamlines the Recruitment Process, providing businesses with access to the Best Talent available. With its robust features such as Applicant Filtering, Customized Recruitment Strategies, Domain Conversions, and Staffing Solutions, UpHiring empowers companies to overcome Traditional Recruitment Challenges. Embrace the future of hiring with MiNdLiNkS UpHiring and discover the transformative power it can bring to your organization.
In today's rapidly evolving Business Landscape, companies are constantly seeking innovative solutions to remain competitive and drive growth. The role of technology cannot be undermined in this process, as it enables businesses to streamline operations, enhance efficiency, and access new markets. However, with the advent of New Technologies, the need for UpSkilling and UpHiring professionals proficient in these Cutting-Edge Tools has become paramount. MiNdLiNkS, an Industry Leader in Domestic and International Staffing, presents UpHiring, a comprehensive approach to bridging the gap from Old to New Technologies. This article will delve into the Benefits, Processes, and Solutions offered by UpHiring, shedding light on how it can empower businesses and individuals alike.
The transition from Old to New Technologies can be daunting for businesses, as it requires a Skilled Workforce that can adapt and harness the potential of these Advancements. MiNdLiNkS UpHiring offers a comprehensive solution to bridge this gap, with its Domestic and International Staffing Solutions focus on maximizing Take-Home Benefits, and emphasis on Work-Life Balance and Employee Recognition. UpHiring enables businesses to embrace New Technologies with confidence, fostering growth and remaining at the forefront of their respective industries. By prioritizing the needs of both businesses and professionals, UpHiring propels companies towards sustained success in an ever-evolving digital era.
MiNdLiNkS is revolutionizing the Hiring Process with their Innovative Platform UpHiring. This groundbreaking platform aims to address the fundamental challenges faced by both Job Seekers and Employers. By providing On-Time Salary, Insurance, and Ensuring Women Safety, MiNdLiNkS is committed to offering Equal Opportunities for all, Including Disabled Individuals while also fostering a stress-free work environment. With No Targets and Internal Employee Training Programs, UpHiring promotes a healthy Work-Life Balance for its users. With MiNdLiNkS UpHiring, job seekers can find Employment with Financial Stability, Security, and Equal Opportunities, making it a transformative platform that is setting a new benchmark in the industry.
I. Filtering the Applicants:
When it comes to hiring, the ability to filter through a large pool of applicants efficiently is crucial. UpHiring simplifies this task through its intelligent applicant screening system. By leveraging cutting-edge algorithms, it swiftly identifies potential candidates who meet the desired criteria. This saves companies valuable time and resources, allowing them to focus their efforts on the most promising prospects. Through this feature, UpHiring ensures that only the most qualified candidates are considered for further evaluation.
II. Recruiting Strategy:
Traditional recruitment methods often rely heavily on manual processes, resulting in a time-consuming and labor-intensive experience. UpHiring, on the other hand, offers a state-of-the-art platform that transforms the entire process. It integrates a host of features designed to make your recruiting strategy more effective and efficient. Through a user-friendly interface, employers can create customized job listings, manage applicant profiles, and schedule interviews seamlessly. This comprehensive solution simplifies every stage of the recruitment process, empowering organizations to find their ideal candidates quickly.
III. Converting One Domain to Another:
Innovation and adaptability are the keys to success in the modern business landscape. As industries evolve, the need to convert talent from one domain to another becomes increasingly important. UpHiring recognizes this need and facilitates the seamless transition of candidates from one professional domain to another. Whether it is converting an IT professional to a non-IT role or transforming someone from an old industry to a new sector, UpHiring provides the tools and resources to bridge the gap. With a comprehensive database of skills and expertise, the platform identifies potential matches between candidates and career opportunities.
IV. Staffing:
For many organizations, staffing is a critical challenge. Upscaling or downsizing your workforce can be a daunting task, requiring careful planning and execution. UpHiring offers a dedicated staffing feature that simplifies this complex process. By analyzing your company's requirements and leveraging its extensive talent pool, UpHiring identifies suitable candidates to fulfill your staffing needs. Whether you require short-term contract workers or long-term professionals, the platform ensures that you can hire the right people at the right time.
V. Converting Old to New:
In today's rapidly evolving technological landscape, the ability to adapt is crucial for organizations. However, transitioning from outdated systems to innovative technologies can pose significant challenges. UpHiring assists businesses in converting old domains to new ones effortlessly. By identifying transferable skills and providing specialized training opportunities, UpHiring enables companies to leverage existing talent during digital transformations. This approach not only reduces the impact of change but also ensures a smooth transition to the new domain.
VI.    Bridging the Gap:
One of the primary challenges faced by companies is transitioning from Outdated Technologies to Newer, more advanced ones. This shift demands a workforce that possesses the necessary Skills and Expertise to effectively utilize these Cutting-Edge Tools. UpHiring by MiNdLiNkS bridges this gap by providing access to vast Talent Pool comprising Professionals adept at New Technologies. Whether it's Cloud Computing, Artificial Intelligence, or Blockchain, UpHiring ensures that companies can seamlessly transition and harness the full potential of these advancements.
VII. Domestic and International Staffing:
UpHiring by MiNdLiNkS offers a unique advantage by providing both Domestic and International Staffing Solutions. From Local Talent to Global Experts, UpHiring caters to the diverse needs of businesses operating on various scales. Leveraging the power of its extensive network and robust screening processes, MiNdLiNkS identifies and connects companies with the right professionals who possess the required skill sets in specific technologies. Such a comprehensive approach enables companies to expand their horizons and tap into international markets while ensuring a seamless integration of the Latest Technologies.
VIII. Maximizing Take-Home Benefits:
Employees are the backbone of any organization, and ensuring their satisfaction and well-being is crucial for enhancing productivity and retaining top talent. UpHiring understands this and goes beyond simply matching professionals with companies. This innovative staffing solution focuses on creating an environment where professionals can maximize their take-home benefits, such as competitive salaries, health insurance, retirement plans, and performance-based bonuses. By prioritizing Employee Welfare, UpHiring by MiNdLiNkS fosters Long-Term Partnerships and Mutual Growth.
IX. Work-Life Balance:
The modern professional landscape emphasizes the importance of maintaining a healthy Work-Life Balance. Traditionally, professionals have had to sacrifice Personal Time to meet Work Demands. UpHiring redefines this paradigm by promoting a culture that values Leave Benefits, Celebrations, and Wine & Dine to the Desk during Weekend Work. This approach not only enhances employee satisfaction but also fuels Creativity and Innovation. By offering a conducive environment that values Personal Time and fosters healthy Work-Life Integration, UpHiring empowers professionals to deliver their best work consistently.
X. Rewards and Recognition:
Recognizing and appreciating employee efforts is essential for a motivated and engaged workforce. MiNdLiNkS UpHiring understands this and takes employee recognition to the next level. Along with competitive compensation packages, UpHiring offers a range of rewards, gifts, and celebrations to acknowledge employee achievements and milestones. Such gestures not only boost morale but also create a sense of belonging and loyalty among professionals. This comprehensive approach to rewards and recognition ensures that employees feel valued and motivated, driving productivity and overall organizational success.
XI. On-Time Salary: Ensuring Financial Stability
A. Salary Onboarding Process
B. Timely Payments, No Delays
C. Financial Stability for Employees
XII. Insurance: Offering Security and Peace of Mind
A. Coverage Options
B. Extended Benefits for Employees
C. Peace of Mind for Job Seekers
XIII. Women Safety: A Priority for UpHiring
A. Safety Measures
B. Emergency Response System
C. Building Safer Workspaces
XIV. Equal Opportunities: Empowering Individuals
A. Equal Opportunities for All
B. Bridging the Gender Gap
C. Fairness and Inclusion
XV. Disabled Safety: Inclusive for All
A. Inclusive Hiring Policies
B. Adaptive Work Environments
C. Promoting Equality and Diversity
XVI. No Targets: Fostering Stress-Free Work Environment
A. A Stress-Free Environment
B. Encouragement and Motivation
C. Enhanced Employee Well-being
XVII. Internal Employee Training Programs: Nurturing Growth and Development
A. Skill Enhancement Programs
B. Career Advancement Opportunities
C. A Path towards Excellence
XVIII. Work-Life Balance: The Key to Success
A. A Harmonious Work-Life Balance
B. Productivity and Stability
C. Achieving Personal and Professional Goals
Categories
Gallery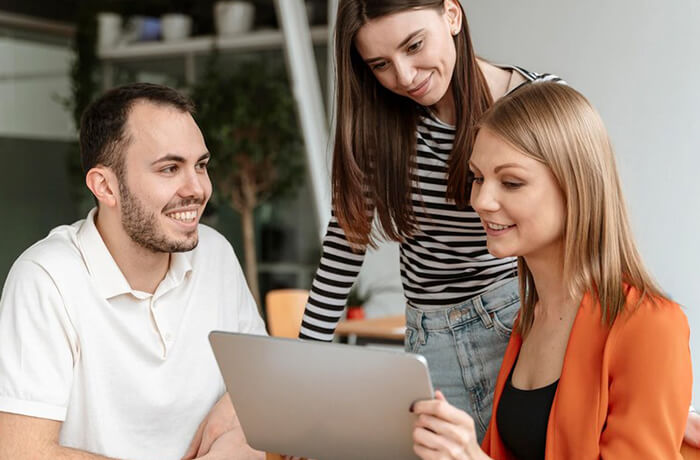 Subscribe to receive instant alerts of new relevant jobs directly to your email inbox.