In today's rapidly evolving world, the demand for professionals equipped with advanced skills is higher than ever before. The advent of advanced technology has revolutionized various industries, prompting individuals to stay updated and develop Next Level Skills to thrive in their careers. MiNdLiNkS, a renowned Upskilling Company, has emerged as a game-changer, empowering professionals across different Non-IT domains to navigate the ever-changing IT job market. This article delves into the significance of Upskilling, the Transition of Professionals from Non-IT Domain Professionals to IT, and how MiNdLiNkS enables Individuals to make such transitions seamlessly by providing a Non-Coding SAP & Non-SAP Cloud Emerging Technologies.
In today's Technology-Driven World, upskilling has become a defining factor for career success. MiNdLiNkS, with its Non-Coding Approach and Utilization of SAP and other Cloud Technologies, has emerged as a Catalyst for Professionals looking to Transition from Non-IT Domains to IT. By providing a conducive environment for acquiring Next Level Skills, MiNdLiNkS enables individuals to tap into the vast opportunities in the IT job market. Invest in yourself, unlock your potential, and embrace the power of upskilling with MiNdLiNkS.
The advantages of Cloud Technologies over On-Premise Solutions are undeniable. From reduced capital expenditure to improved Accessibility and Scalability, the Cloud offers a plethora of benefits. MiNdLiNkS stresses the importance of shifting careers to cloud technologies, as on-premise solutions are becoming out-dated in today's Digital Landscape. Investing time and effort into Learning and Mastering Cloud-Based Tools and Technologies and Business Analyst, Scrum Master, Project Management kind of Next Level Positions will undoubtedly add value to Professionals' skill sets and make them valuable Assets in the Job Market.
In a digital era where technology is rapidly transforming the way we work, acquiring New Skills and staying up-to-date is integral to professional success. MiNdLiNkS UpSkilling offers a Unique Opportunity for Banking, Finance, Insurance, Marketing, Sales, Logistics, Business Operations, Pharma, Medical, Manufacturing Domain Professionals to upskill themselves through MiNdLiNkS Task-Based Training and Drag & Drop Cloud Tools. By embracing New Technologies, bidding goodbye to old on-premise ones, and harnessing the power of the Cloud, even existing IT Professionals can enhance their Career Prospects and make a lasting impact in a rapidly changing world. Embrace UpSkilling by MiNdLiNkS today and pave the way to a successful future in the digital realm.
Understanding the Need for UpSkilling:

The Age of Advanced Technology:
We exist in an era where technology is advancing at an unprecedented pace. From artificial intelligence to data analytics, businesses across all sectors are embracing innovative technologies to boost productivity and gain a competitive edge. Acquiring additional skills is no longer a luxury; it has become a necessity to future-proof one's career.
Tapping into Next Level Skills:
To stay relevant in today's dynamic job market, professionals must continuously enhance their skillset. Next level Skills refer to the advanced competencies that go beyond the basics. By upskilling, individuals can differentiate themselves from their peers and attract lucrative opportunities that were once out of reach.
Non-IT Domain Migration to IT: Bridging the Gap:
From Business Domains to IT:
The concept of shifting from non-IT domains to IT may seem daunting, especially for professionals in domains like BFSI, Sales, and Marketing. However, with the right guidance and training, this transition can be seamless. MiNdLiNkS specializes in transforming professionals from diverse backgrounds into proficient IT personnel.
Business Analyst: A Prominent Transition
Professionals from domains like BFSI, Sales, and Marketing can leverage their industry knowledge to transition into the role of a Business Analyst. MiNdLiNkS offers comprehensive training programs that equip individuals with the necessary IT skills to meet the demands of the role. By bridging the gap between business knowledge and technical proficiency, MiNdLiNkS ensures professionals are well-prepared for a successful transition.
III. MiNdLiNkS: Empowering Transitions without Coding:
A Non-Coding Approach:
MiNdLiNkS believes that coding should not be a barrier for professionals seeking to upskill and enter the IT industry. Their unique non-coding approach allows individuals to gain a strong foundation in IT concepts without the need to delve into complex coding languages. This approach makes upskilling accessible to everyone, regardless of their technical background.
Leveraging SAP Technology:
SAP, the leading enterprise software provider, plays a pivotal role in MiNdLiNkS' upskilling programs. SAP's user-friendly interface and powerful functionalities make it the ideal platform for individuals transitioning from non-IT domains to IT. MiNdLiNkS leverages SAP technology to train professionals in areas like Business Intelligence, Supply Chain Management, and Customer Relationship Management – empowering them to become highly sought-after in the IT job market.
The MiNdLiNkS Experience: Transforming Lives and Careers:
Customercare & BPO to IT:
Professionals working in the customer care and BPO industry possess exceptional interpersonal skills and a deep understanding of customer needs. MiNdLiNkS recognizes the value of these skills and provides comprehensive training that enables professionals to transition into IT roles seamlessly. By harnessing their existing skillset and acquiring IT proficiencies using SAP technology, individuals can embark on a rewarding career in IT.
Unlocking Career Growth:
MiNdLiNkS' upskilling programs have witnessed individuals successfully transitioning from non-IT domains to IT, unlocking immense career growth opportunities. Armed with Next level Skills and backed by MiNdLiNkS' expertise, professionals can chart new paths in their careers while enjoying job security, higher remuneration, and opportunities for professional advancements.
Benefits of Task-Based Training:
Traditional Training Methods often leave individuals with Theoretical Knowledge but Limited Practical Skills. MiNdLiNkS seeks to bridge this gap by offering task-based training, which focuses on hands-on experience and real-world scenarios. By engaging in exercises that simulate actual work environments, trainees gain the confidence and expertise necessary to excel in their roles. This practical approach ensures that individuals are not only knowledgeable about the subject matter but also capable of applying their skills effectively.
VII. Harnessing the Power of Drag & Drop Cloud Tools:
MiNdLiNkS understands the importance of simplifying complex concepts. That's why their Training Programs incorporate Drag & Drop Cloud Tools, which allow users to easily manipulate and manage Cloud-Based Resources. By leveraging these intuitive tools, individuals can quickly grasp the fundamentals of Cloud Technologies without getting bogged down in technicalities. This user-friendly approach saves time and empowers trainees to focus on mastering the core concepts instead of struggling with complicated procedures.
VIII. Transitioning from Old to New Technologies:
In the fast-paced world of technology, staying relevant means adapting to new trends and leaving behind outdated practices. MiNdLiNkS recognizes the importance of this transition and equips professionals with the necessary skills to embrace New. Whether it's migrating On-Premise Technologies to the Cloud or Transitioning from Non-IT Domains to IT, MiNdLiNkS TaskBased Training provides Comprehensive Training that enables professionals to seamlessly navigate the path towards the future.
Saying Goodbye to Old Technologies:
While old technologies may have served their purpose in the past, they often hinder progress and innovation. MiNdLiNkS emphasizes the need to bid farewell to on-premise technologies that limit scalability and hinder agility. By embracing Cloud-Based Technologies and Solutions, businesses can enjoy greater Flexibility, Cost-Effectiveness, and Enhanced Collaboration. MiNdLiNkS guides professionals through this transition, ensuring they can confidently leave behind old technologies and embrace the countless benefits of the cloud.
Categories
Gallery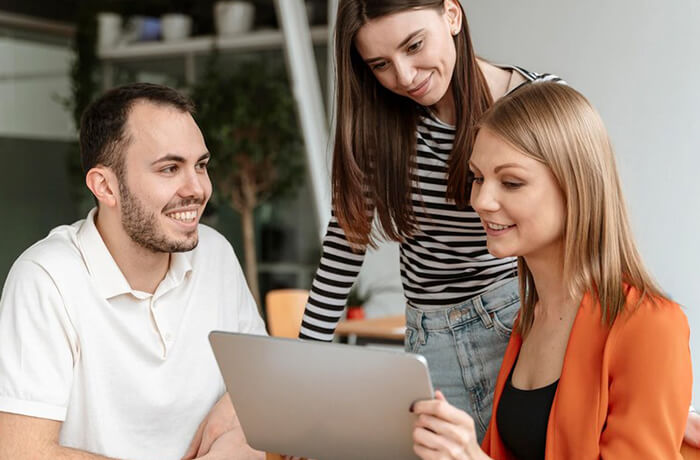 Subscribe to receive instant alerts of new relevant jobs directly to your email inbox.