In today's fast-paced and ever-evolving world of today, professional growth and skill development are indispensable. Post Training is a crucial phase in a professional's journey, where they put into practice what they have learned and gain Hands-On experience. This page of information aims to explore the significance of WoRkBeNcH (Project By Your Own Hands) by MiNdLiNkS after being trained and how it contributes to Personal and Professional Development. The businesses across various industries are constantly striving to meet customer demands, innovate, and stay ahead of the competition. The success of these endeavors largely depends on the effective execution of projects. Project Implementation plays a vital role in ensuring that projects are delivered on time, within budget, and meet all the required specifications. However, the journey of Project Implementation is not without its challenges. This article delves into the significance of Agile Methodology, the alarming trend of people faking their experience, and the emergence of cloud technologies in Project Implementation.
WoRkBeNcH (Project By Your Own Hands) by MiNdLiNkS is a pivotal phase in one's job survival. It bridges the gap between theoretical knowledge and practical application, allowing individuals to gain Hands-On experience and develop essential skills. Whether it is Requirements Analysis, End to End Implementation, or using end user tools, actively participating in projects helps individuals become Self-Reliant, Adaptable, and Proficient in their respective fields. Embracing post training opportunities not only enhances personal growth but also increases employability in today's Competitive Job Market. So, don't hesitate to take ownership and work by your own hands to unlock your true potential.
In a dynamic business landscape where change is constant, the ability to adapt and deliver projects efficiently is crucial for organizations. Agile Methodology, with its emphasis on flexibility and collaboration, has Revolutionized Project Implementation Practices. However, the rise of people faking their experience poses a significant threat to the integrity of project teams. Thus, it is essential for organizations to invest in reliable Recruitment Processes and Continuous Skill Development Initiatives. Furthermore, the advent of Cloud Technologies has unlocked new horizons in Project Implementation, enabling seamless collaboration and driving innovation. By leveraging the combined power of Agile Methodology and Emerging Cloud Technologies, organizations can maximize project success and gain a competitive edge in today's rapidly changing Business Landscape. WoRkBeNcH (Project By Your Own Hands) by MiNdLiNkS will let you experience Agile nature of implementation.
Navigating the complexities of Project Implementation requires a reliable and robust Program that can complement your team's efforts effectively. MiNdLiNkS WoRkBeNcH is the ideal solution, offering an array of features designed to enhance collaboration, streamline communication, and create a Practical Working Environment. By leveraging its capabilities, teams can effectively work on project roles, receive support from a Senior Project Lead, utilize other end user tools, communicate proficiently in client calls, and establish a productive working atmosphere. With WoRkBeNcH, Project implementation becomes seamless, enabling teams to deliver exceptional results and achieve success.
In today's rapidly evolving business landscape, Practical Experience in Project implementation has become a crucial aspect of ensuring success. But it needs a Job. We MiNdLiNkS can make you work in a Project before you get the job. With multiple stakeholders, varied tasks, and deadlines to meet, managing projects efficiently and effectively is a key. Recognizing this need, MiNdLiNkS has developed WoRkBeNcH, an innovative Project implementation Program designed to streamline collaboration and enhance productivity. This page of information provides an in-depth analysis of MiNdLiNkS WoRkBeNcH (Project By Your Hands) and its features, highlighting the benefits it offers in terms of working on Project Roles, support by Senior Project Lead, other Support and End User Tools, effective communication in client calls, and creating a Practical Working Environment.
I. The Importance of Post Training:
After completing a training program, individuals often find themselves at a crossroad. The acquired knowledge needs practical application to solidify and enhance their skills. Post training is the ideal phase where theoretical concepts blend with real-time scenarios, allowing trainees to fully grasp their training.
II. Hands-On Experience:
Nothing can replace the value of Hands-On experience. The ability to Work By Your Hands allows individuals to understand the intricacies of a project, including its challenges and opportunities. By actively engaging in the project, trainees become self-reliant and develop problem-solving skills, which are vital for professional growth.
III. Project Implementation:
The core purpose of Project Implementation is to transform ideas into reality. By actively participating in Project Implementation, individuals have the opportunity to showcase their abilities and contribute to the success of the project. This Practical Experience is invaluable and provides a stepping stone for future endeavors.
IV. From Requirements Analysis to Deployment:
End to end implementation is a comprehensive process that encompasses various stages, starting from Requirements Analysis to Final Deployment. By being involved in each step, individuals gain a holistic understanding of the Project Lifecycle, including Planning, Execution, and Monitoring. This Hands-On experience equips them with a wider skill set and greater ease of working in Project Implementation.
V. All End User Tools:
Project Implementation involves using various end user tools to accomplish desired outcomes. By taking charge and working with these tools, individuals gain Familiarity and Proficiency, enhancing their Professional Repertoire. This practical exposure not only boosts confidence but also adds value to their skillset, making them more competitive in the Job Market.
VI. Agile Methodology:
Agile methodology embraces Flexibility, Collaboration, and Iterative Development. By engaging in Hands-On Project Implementation, individuals can experience the agile approach firsthand. They learn to adapt to changing circumstances, work effectively in a team, and deliver quality results within defined time frames. This agility is an asset in today's dynamic work environments.
VII. Understanding the Power of Agile Methodology
1. Agile Methodology:
A. The Traditional Project Implementation Approach
B. The need for adaptability and responsiveness
C. Agile Principles and Values
VIII. The Perils of Fake Experience in Project
1. Unmasking the Phenomenon of Fake Experience:
A. The motivation behind Faking Experience
B. Identifying the Signs of Fake Experience
C. Its impact on Project Outcomes and Organizational Reputation
IX. The Implications for Hiring and Retaining Top Talent:
A. The challenges faced by recruiters
B. Strategies for identifying Fake Experience
C. The importance of investing in Skill Development
X. Harnessing the Potential of Cloud Technologies in Project Implementation
1. Cloud Computing: Driving Innovation and Collaboration:
A. An overview of cloud computing
B. The benefits of leveraging Cloud Technologies in Project Implementation
C. Real-world examples of successful Cloud Implementation
2. Overcoming Challenges in Cloud Adoption:
A. Data security and privacy concerns
B. Integration and interoperability challenges
C. Strategies for a smooth transition to cloud-based Project Implementation
XI. Maximizing Project Success with Agile and Cloud Technologies
1. Integrating Agile Methodology with Cloud Technologies:
A. Agile principles applicable to cloud-based Project Implementation
B. How Cloud Technologies enhance the agile framework
C. Agile Tools and Platforms for effective Project Collaboration
2. Best Practices for Effective Project Execution:
A. Establishing clear project goals and objectives
B. Advantages of incremental delivery and continuous feedback loops
C. Empowering cross-functional teams for improved Project Outcomes
XII. Working on Project Roles:
One of the primary advantages of MiNdLiNkS WoRkBeNcH is its ability to facilitate seamless collaboration on project roles. With this Program, team members can easily access and manage their assigned tasks, ensuring that everyone is on the same page and productivity levels are maximized. The user-friendly interface allows for easy task allocation and Progress Tracking, enabling each team member to contribute their expertise effectively.
XIII. Support by Senior Project Lead:
WoRkBeNcH also offers exceptional support from a Senior Project Lead, who acts as a mentor and guide throughout the project lifecycle. The Senior Project Lead leverages their wealth of experience to provide valuable insights, offer strategic advice, and ensure that the project stays on track. Their expertise involvement guarantees that potential roadblocks are identified and resolved promptly, fostering a collaborative and supportive team dynamic while correcting you where you stuck.
XIV. Other Support End User Tools:
Additionally, MiNdLiNkS WoRkBeNcH offers various other support end user tools to enhance Project Implementation capabilities. From automated scheduling and resource allocation to Real-Time Tracking and Reporting, these Tools empower Project Teams to work more efficiently and deliver results within the designated time frame. With features like Document Sharing, Task Management, and Team Collaboration, Monitoring, Tracking, and Reporting, all processes are streamlined, eliminating scope for miscommunication or duplication of effort.
XV. How to Talk in Client Calls:
Effective communication is crucial when interacting with clients, and MiNdLiNkS WoRkBeNcH provides the perfect platform to facilitate this. When it comes to client calls, it is essential to maintain a Professional Tone, and WoRkBeNcH equips you with the necessary tools and functionalities to do so. And about the Program offers features like call recording, call notes, and document sharing, ensuring that the information exchanged during client calls is accurately captured and readily accessible to the entire project team.
XVI. Daily Calls, Status, and Scrum Calls:
To keep the project on track and ensure timely delivery, Daily Calls, Status Updates, and Scrum Calls play a pivotal role. MiNdLiNkS WoRkBeNcH incorporates these functionalities seamlessly, allowing team members to coordinate their efforts, share updates, and identify any roadblocks hindering progress. This program offers dedicated sections for Daily Call Summaries, Status Updates, and Scrum Meeting Notes, enabling Efficient Coordination and Communication among team members.
XVII. Practical Working Environment:
Creating a practical working environment is essential for any successful survival of entry level people to get the job and to work from the Day ONE as an Industry-ready professional in the project. MiNdLiNkS WoRkBeNcH provides a clutter-free and customizable dashboard, empowering users to organize their workspace according to their specific requirements. From personalized to-do lists and priority tasks to customized project overviews, the Program allows each team member to optimize their workspace and focus on what matters most. This practical working environment ultimately boosts productivity and ensures that project goals are executed efficiently.
Categories
Gallery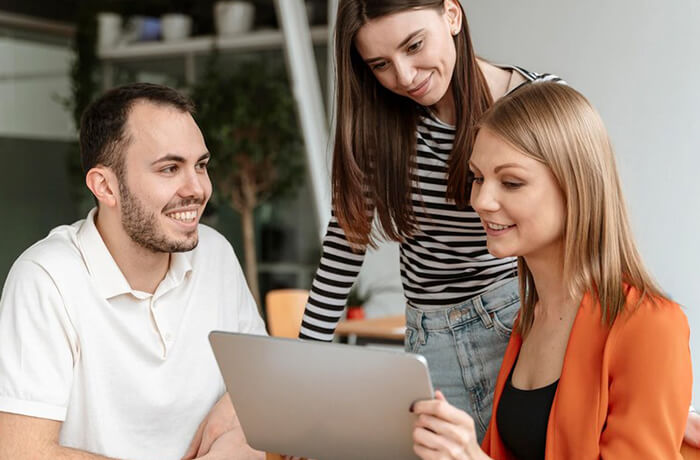 Subscribe to receive instant alerts of new relevant jobs directly to your email inbox.